infos
"Great ambitions always go beyond your means". Add an acquired taste for unattainable perfection, and you got Radius System's daily motto. Born from glitches and home studio experimentations, this project was founded 10 years ago by Gregory Hoepffner (percussions, guitars, vocals, bass, keys, production & visuals) and Axel Dallou (bass, visuals), on the fringes of rock standards and their suburban garage rehearsals.

A first notable step is pointed out with "Work In Progress" (2005), a debut LP filled with walls of sound, noise violence and melancholic despair, created by 2 youngsters still in their late teenage years. Several Bleeds Records and Season of Mist sees the potential and offers the album a notional distribution in France. The duo then evolves into a live band, trying different line ups to match the gigs.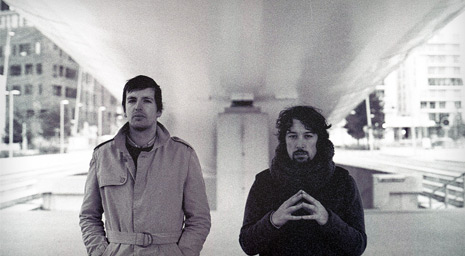 "Escape / Restart" (2008) will be fed by this live experience, but won't benefit from it : facing the difficulties of adapting tortuous and complex songs to the stage, the live band will dissolve the same year. But the duo takes a winning choice by making its second LP a free download. Positive worldwide feedbacks are flourishing, and Radius System earns a strong place in the post-rock scene, making the album one the greatest "success" of UK-netlabel LostChildren (The Silent Ballet, French Teen Idol, Sleepmakeswaves, Stellardrive…), with more than 22 000 downloads. This enthusiasm allows the immediate release of an EP ("Almost Nothing"), featuring new tracks, covers and remixes (Portishead, Radiohead, I'm From Barcelona), commissioned by the french webzine Visual Music.
But as the years flew by, the constant addition of side-projects (Time To Burn, Painting By Numbers, TEMPL▲TE...) significantly increased the quality standards of the duo ; as if Radius System needed to be at the core of all these attempts. The sore result of this violent questioning years is "Architects Of Yesterday". A blessing in disguise, as this third LP takes Radius System into a higher ground, far from the teenage angst that qualified its early stages.
The electronic beats and the distorted guitar outlets are now gone, allowing the songs to let go the basic "rock" overtones, and emphasize their melancholy and nostalgia. Vocals have gone lower and assured, as if resignation was the only lucid path. "Architects Of Yesterday" is claimed homage to all these failed inventions, and these never reached brighter futures. A state where the harshest reality slaps back to kill your dreams and ambitions.

A cold completion proving the maturity of Radius System's principles : nothing is ever granted, everything is to be re-done.